Hyper-casual games are becoming increasingly popular and for good reason! They're entertaining, with easy gameplay, and perfect for mobile marketing campaigns.
In this blog post, we'll look at 7 of the most popular hyper-casual games out there and why they're so effective.
But before we do, let's look at what makes a game a hyper-casual game and why they're so effective for marketing purposes.
What is a Hyper-Casual Game?
A hyper-casual game refers to a lightweight game with minimal design. They are simple to construct, but they offer a lot of amusement and replayability. Hyper-casual games are created in a way to be approachable and entertaining by the widest range of gamers.
The term "hyper-casual games" is established in the world of mobile games marketing, but the category still doesn't exist in the App Store and Google Play Store. Some even say it's more of a business model, rather than a mobile games genre.
Whatever the case may be, the success of hyper-casual games is undeniable – they have changed the mobile gaming industry forever.
With the success and continued growth of the hyper-casual genre, we can take a step back to take a look at everything that led to the way hyper-casual games look in 2022. Understanding the hyper-casual space is important for mobile developers, publishers, and marketers.
Back in 2018, a majority of successful mobile games were hyper-casual games. Now, in 2022, we still see many hyper-casual titles among top downloaded or top-grossing games.
Who is a Hyper-Casual Gamer?
The average hyper-casual gamer likes to kill time. They're mobile gamers that aren't heavily invested in complex game mechanics or hardcore games. They just want addictive gameplay within a simple game design.
Hyper-casual gamers often enjoy some light fun when they have nothing better to do. Think, of commuters on the way to work, patients in a waiting room, etc.
If you think that's totally humiliating for working hyper-casual publishers, don't worry! Hyper-casual gamers are the reason why the top mobile games year after year often have just one mechanic and are highly addictive.
According to Facebook's hyper-casual games report, the main 7 reasons why people play hyper-casual games are:
To alleviate stress
To pass time
The feeling of accomplishment after completing a challenge
To dive into another world or character
They are impressed by something unique
To nurture something unique about them
As a connection to something they are passionate about in real life
This kind of motivation is exactly what developers have in mind when creating a hyper-casual game and its the perfect environment for marketers to introduce a branding opportunity.
Key Elements of a Hyper-Casual Game:
SIMPLE
When we say simple, we mean simple. First-timers should instinctively know what the gameplay requirements are within the game and the functionality should be limited to avoid confusion.
Gamers just need to download them and start playing, no tutorial required. This is the type of game users will play when they have some spare time on their hands. In other words, a hyper-casual game should be short, easy to play, and instant.
MINIMALISTIC
The user interface of hyper-casual games should be minimalistic. The overall game is light on elements, menus, or numbers. Many hyper-casual games only have one or two buttons. The popular mechanics behind hyper-casual games are also very simple and straightforward.
INFINITE REPLAY
Hyper-casual games should be able to play infinitely. Repeating a game after game can become dull after a while, hyper-casual games have to contain a variety of attributes to keep the gameplay re-engaging and fun. For this reason, there is always a harder level in the hyper-casual game.
MINIMAL EFFORT
As previously mentioned, hyper-casual games should not demand any particular set of abilities, a learning phase, or a high degree of focus from the game player. Play in public transportation, while watching television; even going to the bathroom.
QUICK TO DEVELOP
Often developed in a matter of weeks, even days! Quickly designed and published. If the testing period shows that the game has potential, the game is published and advertised.
After the soft launch, the publishers know what works and what doesn't. The data gathered from tracking key mobile game metrics will help the developer further optimise the game to reach its full potential.
The key metrics to show if the game has potential are 1-day retention and 7-day retention. If the game has 1-day retention of more than 40%, then it moves on. If the game KPIs are not met, the game is killed. It makes no sense to put more effort into a game that is not likely to succeed.
WIDE AUDIENCE
Hyper-casual games can be enjoyed by anyone – it's a universally fun experience. They are mass-market games that appeal to a wide audience because of their simplicity.
That's why the target demographic for this type of game can be quite broad – your 28-year-old brother might like it the same as your 55-year-old mum.
ADDICTIVE
We can't talk about hyper-casual games without emphasising how addictive they are. Short and simple game loops make you want to play over and over again. This is why players keep returning to this genre.
7 Hyper-Casual Games that are great for Marketing
These 7 quick examples of hyper-casual games have a lot of the key elements listed above. Their gameplay mechanics make it simple to market a product to users in the form of playable ads.
Candy Monster
Candy Crush Saga is still a titan in the hyper-casual games genre, over ten years after its initial release.
Gamify has a game template that is a marketing successor to Candy Crush titled Candy Monster. In order to play, users must align at least 3 matching candies to knock them off the board, and match up 5 to power up.
This game is a great example of simple and addictive gameplay mechanics which have infinite replay value.
A simple reskin of this game towards a product tie-in and an incentivising reward attached will see a great user engagement rate.
Angry Birds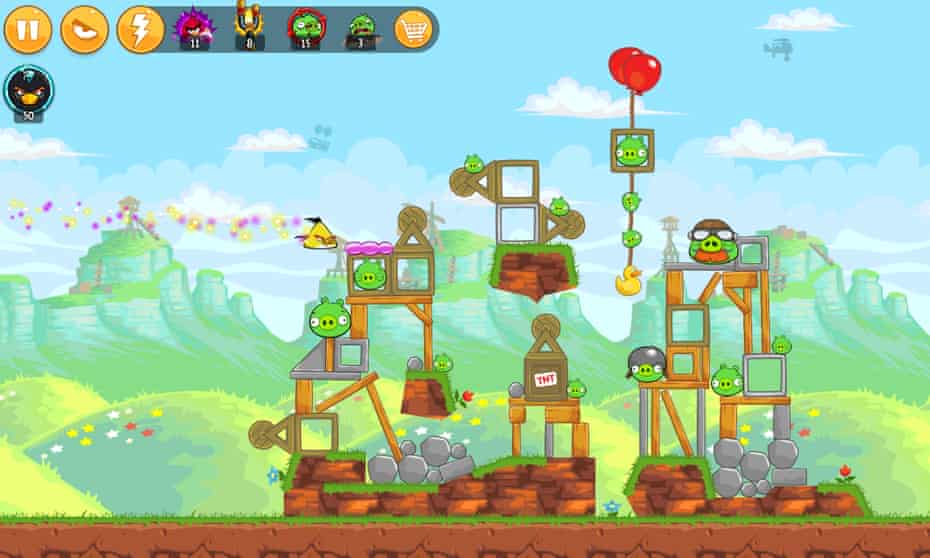 Angry Birds is a 2009 casual puzzle video game that has such a strong fan base that it spawned 2 movies from the IP.
This game possibly has the most complexity on this list and even still, it is quite simple.
Using different birds with different abilities, you will slingshot them towards a structure that is littered with pigs in an effort to destroy all of the pigs.
It sounds weird but it is a highly addictive, strategy game that will hold the attention of users on each play.
Flipper
Memory match games have been a part of casual gaming long before mobile gaming and have managed to hold true with other games that have more advanced concepts because of their replayability.
The game requires users to find all of the matching pairs of cards in the deck. A great game for rebranding and creating a sense of memory associated with your brand.
Gamify's version is called Flipper and it is one of the most direct ways to market to users within a game.
Doodle Jump
Another 2009 release, Doodle Jump is one more example of how effective hyper-casual games have become a mainstay in gaming apps.
Travel with the cartoon character as high as possible! This jumping upwards game will test your reaction speed and hopping skills.
You will be challenged to leap from platform to platform while collecting power-ups. Use a jetpack to blast upwards at the speed of light!
Each game encourages users to attempt to get a higher score than their last playthrough.
Swipe Balls
Swipe balls is a hand-eye coordination game that requires the user to watch for oncoming hazards that they must deflect from the screen.
This is more of a new game that follows some of the latest trends in games such as Beat Saber but for more of a mobile user base.
As you dodge obstacles, the timing mechanics give the user a lean-in experience as they interact with your branding.
Kite Kittens
When Flappy Bird was first released back in 2013 it became a global phenomenon.
Flappy Bird generated 50 million downloads by January of 2014, making it one of the top free games on the Google Play and iOS App Stores.
Before that, games were rich with features and users had to spend some time before being immersed in the game. After the success of Flappy Bird and the virality of that game, the world realised that bigger isn't always better.
Flappy Bird was actually removed from app stores later in 2014 as the creator claims that he felt guilt over what he considered to be its addictive nature and overuse of the game. If this isn't an indicator of the success of the game, I don't know what is.
Kite Kittens is the marketing successor to Flappy Bird, taping into the principles of the original game as you fly through the sky as a hang-gliding kitten in this side-scroller, collecting all the yarn balls while keeping a watch on storm clouds at the same time.
The simple game structure requires the user to avoid obstacles as they maintain momentum for their side-scrolling character. The leaderboard-driven gameplay encourages the user to play multiple games in an effort to master their skills and gain a decent score.
Crossy Road
Crossy Road is an arcade video game released on 20 November 2014. It was developed with the name and concept of the game playing on the age-old joke "Why did the chicken cross the road?"
This game is very much a modernised take on classic arcade games like Frogger.
The simple gameplay requires the user to time their character's hops from one side of the screen to the other. This reaction-based gameplay helped this game template to top charts around the globe.
Summary
Hyper-casual games are perfect for reaching consumers with a quick and snackable form of engaging marketing.
If you want to create a casual game that will keep players hooked, there are a few key elements to consider.
We've highlighted some of the most important ones in this blog post and shared seven examples of hyper-casual games that are sure to entertain.
Do you have any ideas for a fun, casual game? Share them with us in the comments below! And if you want to learn more about designing and developing games, contact us today.